Join Our EMPLOYEES UNITED Team
Employees United, is committed on providing equal employment
opportunities. We make sure we find the perfect employer for
each individual applicant. Thank you for your interest in being "United" with us
at Employees United.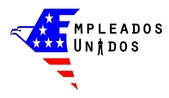 Please print the application below and bring in to our office.
We are currently hiring for the fallowing.
~Shipping/Receiving ~General Labor ~Maintenance ~Packaging/Pickers ~Clerical ~Lumpers